Video Camera Systems in Greer, SC
If you need to capture your presentation in full clarity and detail, Hames Pro can assist you. As experienced A/V professionals, we're familiar with modern, state-of-the-art video camera systems in Greer, SC for stages, concerts, and more.
Our team of AV integrators will consult with you about your needs and make recommendations for the right equipment, so you can record with confidence.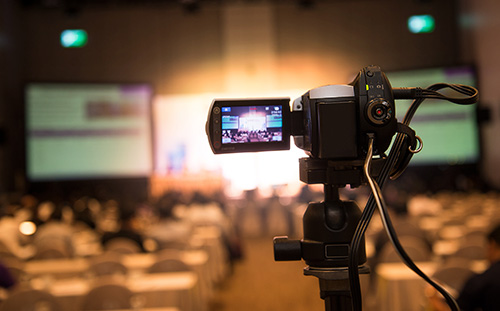 Quality Recording Equipment
The ability to capture presentations on video has become very popular in recent years. We'll help you design a video camera system to suit your needs, built on the basis of superior-quality video recording equipment in Greer, SC.
Pan, Tilt, Zoom (PTZ) cameras give the ability to capture your events using custom presets and manual control. Utilizing these highly functional cameras, we construct a recording system that meets your needs and expectations. Our capabilities range from a single-shot camera to a multi-camera audio/visual installation, depending on your recording expectations:
Baptisms
Funerals
Special events
Weddings
Record for archival purposes
Record for distribution
Record for online presence
We're ready to consult with you at length about your video recording needs
Regardless of your recording needs, we'll make sure your system is set up for optimal functionality. All sound and video can be captured to DVD or computer for duplication and distribution, with core elements of quality properly preserved.
A Video Camera Installation Designed Around Your Needs
If you need recording capabilities built into your audio-visual system, turn to Hames Pro for answers. We're capable of designing a system that suits your needs and budget, while meeting your highest expectations and standards. The systems we design are open-ended, which means cameras can be added as budget and needs require.
For more information about our capabilities or to inquire about the types of recording equipment we utilize, please contact our knowledgeable team today at 864-490-5716.
Schedule A Consultation