Audio/Video Installations in Greer, SC
Looking to upgrade your boardroom with a total A/V system? Want to augment the audio system in your house of worship with projection equipment? Hames Pro provides comprehensive audio/video installations in Greer, SC, tailoring the scope of service around your needs.
Our AV integrators are here to make sure you get the A/V installation you need.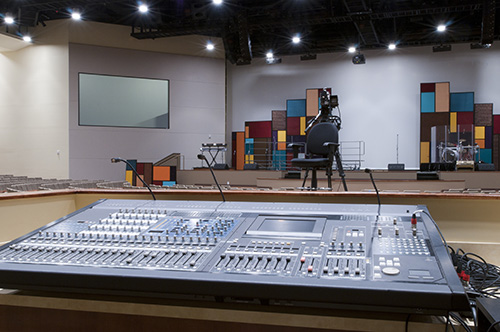 Audio:

We tailor the audio of your sound system installation specifically for your needs, whether you're hosting speakers, playing music or showing multimedia presentations. We'll position speakers and calibrate audio to ensure crystal clear sound that's easy to hear and understand.

Visual:

Planning on showing videos or presentations? Need a way to complement your audio with an easy-to-use visual component? Turn to us to design the ideal visual component for your audio-visual system. From video projection installations to screens, we do it all.

Acoustical:

Our team is comprised of seasoned acoustic contractors in Greer, SC. We're able to configure the layout of your audio-visual components for ideal wave propagation, ensuring your messaging is heard and seen by all.

Lighting:

Lighting plays a fundamental role in multimedia presentations. We coordinate an exceptional lighting system installation that's easily controlled for quick dimming or feature lighting.

Design:

We specialize in comprehensive A/V system design, from start-to-finish. Let us provide you with the groundwork for a top-tier system that meets your complete multimedia needs, then take care of the installation, optimization and training that goes along with using it.
AV System Installations Done by the Pros
Hames Pro provides complete audio and video camera system services throughout the greater Southeast, including for clients in both North and South Carolina. Serving a broad range of commercial and institutional customers, we ensure you're getting individualized attention and turnkey results. If you are looking for an upgrade or just need some ideas, we'll provide the answers. We make it easy for you to get what you need!
Contact our seasoned team today at 864-490-5716 to discuss your audio-visual needs and to ensure they're being met to the fullest.