Sound System Installation in Greer, SC
The many benefits of a professional sound system in Greer, SC quickly pay for themselves. When your system is installed by the professional AV system contractors at Hames Pro, rest assured you'll get years of use out of it, along with the functionality you expect for stages, concerts, and more.
We design and install sound systems tailored to meet the needs of our clients—whether it's a simple system or a robust system covering broad facilities.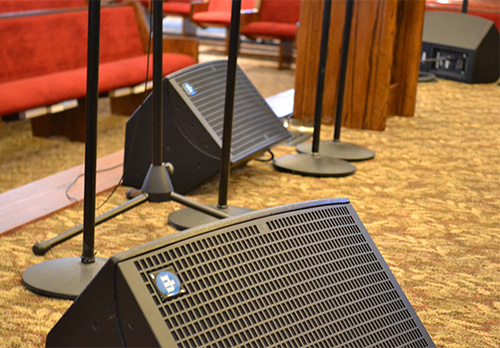 Sound System Design

Sound systems are comprised of many parts and pieces that make them work. From speakers and amps, to mixing consoles and microphones, there's a lot that goes into sound system maintenance and installation in Greer, SC.

Our team is familiar with every critical component of a sound system and will piece together the essentials necessary to build one that's ideal for your facilities. We'll consult with you about intended use, survey your building, and make recommendations about how to get the most out of your investment in sound. Then, we bring your system to life with precision and care.

New Construction Installations

Is your building in its development stages? While you're planning for HVAC and plumbing, don't forget to build out electrical and A/V, too!

Hames Pro can work with you and your contractors to provide the groundwork for a complete audio/video installation. We'll lay the infrastructure of a comprehensive audio system, accounting for things like future growth and upgrades. Rest assured, it'll come together perfectly, in a system that benefits your facilities.

Upgrades or Additions

If you have an older audio system, there are always improvements to be made. Technology evolves and gets better every few years!

If you're ready to make the upgrade, we're ready to handle the retrofit. Call us to take out old or unused components and replace them with state-of-the-art technologies, making your system the best it can be. We work with many different products and brands to bring you a unique system, designed to fit all your wants and needs.
Complete Audio Installation
When you work with Hames Pro, you're getting start-to-finish installation from the same team. We guarantee a touch of quality through and through, so you get a system that works right, every time.
Contact us today at 864-490-5716 to begin planning your installation or upgrade.